If you wonder how to factory reset MacBook Pro, you may be planning to sell your old MacBook to get a new now. Well, if you are thinking about getting a new one and you are considering what to do with the piece that you have now, then you are doing a great thing. After all, you need to upgrade your Mac with the latest edition to get super-fast and smooth performance. However, if you are planning to sell it, then you must rest the system. This will help you to keep your private information protected.
Apart from selling, you may also want to reset your Mac for some other reasons. There is no doubt that the Macs are quite reliable, but just like other computers, your MacBook can also encounter some issues related to software or hardware. Before spending a huge amount, you can try to solve the issue by factory resetting which will reinstall a clean version of macOS.
How to factory reset MacBook pro, understand what it means?
Before learning How to factory reset MacBook Pro, let's know what it means. Well, on iOS, you will get a reset option by visiting Setting and then General. But on your Mac, you won't get such an option. Whether you are using the Mac OS or iOS, this term means is setting all the things back to the way it was when your Mac was a brand-new piece.
In simple words, this is all about removing all your personal information, clearing the drive completely, and setting the system up for a new user or a fresh start. Now, let's get into the process
Learn how to reset MacBook pro to factory settings
Before we dive deep into the process of how to reset MacBook Pro to factory settings, there are certain things that you will have to do.  Even though the primary purpose of this guide is to teach you about how to factory reset MacBook Pro, but there are certain recommended actions to take. With this, you can make sure that you don't lose any apps, photos, or personal data or files while moving to a new MacBook.
Backup all your data
Before doing a factory reset, it is advisable to copy all the files, the system, and components. For this task, you can use a time machine that will be there in your Mac. If you find this service, then there is no need to import your files to any physical drive. When you have your new Mac system, you can easily restore the data with a few simple clicks.
iTunes account deauthorization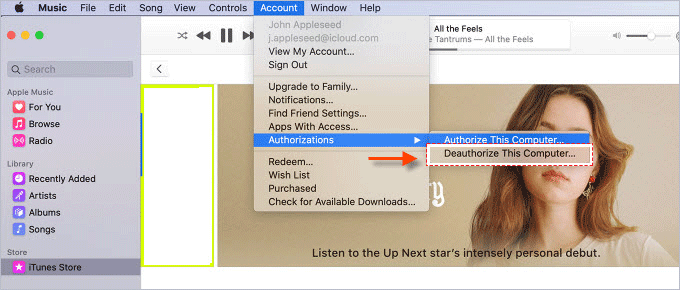 Before resetting, you should deauthorize the Mac system from the iTunes Store. That means your account will be delinked from the iTunes account. Well, this is quite important as you will be only allowed to use five Macs to play movies and music that are linked to the iTunes account. The method for deauthorization will depend on the version you are using.
For macOS Catalina
If you are on Mac OS Catalina, then on that OS, you will not be able to use iTunes as a standalone app. So, here you need to use the iTunes Store through the Music app. Open your Music app and choose Music and then go to Preferences located on the Menu bar. Now you need to visit the General tab and click on iTunes Stores. Now, you can easily access your account. After getting access, click on deauthorize the computer.
For iTunes 12
If you are using a Mac system with iTunes 12, then follow these steps. First, open your iTunes and click Account. Then you need to click on Authorizations. After that, choose De-authorize This Computer. Now, give your Apple ID and password and press De-authorize. The job is now done.
iTunes 11and below version
For the older version, you can click on "Store" and then choose "Deauthorize."
Disable your File Vault
While learning how to factory reset MacBook Pro, you also need to know how to turn off the File Vault. This encrypts all the files on the hard drive. If you are using this, it is advisable to disable it before going any further. To turn it off, start by opening System Preferences. Then you need to click on Security & Privacy. After that, choose the FileVault tab and Check that it shows 'FileVault is turned off for the disc.
If it is showing "off," then there is nothing to do more. However, if it is active, click on the padlock icon located in the bottom left, and enter your user name and password. Then you need to click on Unlock. After that, choose Turn Off FileVault. Then, you will again have to put your user ID and password to initiate the decryption process.
Turn off the iCloud
Now, the next thing that you need to turn off is the iCloud. Remember that if your system has any iCloud files, all those files will be automatically archived into the home folder. So, back up the folder.
For macOS Catalina
Click the "Apple logo" and choose the "System Preferences." Now you need to click on "Apple ID." After that, on the sidebar, you need to select "Overview" and click "Sign Out."
For macOS Mojave
Click the "Apple logo" and choose "System Preferences." Then you need to click on "iCloud" and no click "Sign Out."
Sign out of iMessage
For this, you need to open the "Messages app." Now you need to choose "Messages" located next to the Apple logo. Now choose "Preferences." After that, click "iMessage" and then choose "Sign Out."
Unpair the Bluetooth devices
If you plan to sell your Mac system and want to keep the wireless keyboard or mouse with you, then it is a good idea to unpair them from the Mac to prevent any inconvenience. When the devices come in range, they try to connect to the old Mac system and will get disconnected from yours. So, to unpair them from your system, first, you need to click on the Apple logo and then choose the System Preferences. Now, you need to go to the Bluetooth tab. Then choose the name of the device and choose the "X" button. Now, you have successfully removed the devices.
Reset the NVRAM
NVRAM stands for Non-Volatile Random-Access Memory. When you reset it, it will erase certain configurations, for example, display & startup-disk configurations, recent kernel panic information, sound setting, time zone, and more. Besides, it will bring back the security features to the default setting. To reset it, first, you need to click on "Apple logo" and then choose "Shut down." Now, press the Option + Command (⌘) + P + R keys while turning on your Mac system. Hold them for around 15 to 20 seconds.
Now, you have a complete idea about what you need to do before factory resetting your Mac. Now, it's time to know how to factory reset MacBook Pro.
Resetting MacBook Pro
Once you are done with the steps mentioned above, you are now ready to completely erase your system. Here you will know the methods for Catalina and Mojave macOS. First, let's start with Catalina.
How to clear your Mac running on Catalina macOS?
Apple introduced macOS Cataline in the year 2019, and on that, it added a red-only volume which houses the OS. That is called Macintosh HD.  Well, you can change the name. With this, you will also get a Macintosh HD Data Volume that houses your data. So, while resetting the Mac, you need to wipe both these volumes. First, you need to delete the Macintosh HD Data Volume, and then go for the Macintosh HD.
Start you, Mac, in the Recover mode by pressing Command + R button while booting up.
Hold the buttons for a few seconds to load the Recovery mode. Once done, you need to choose the Disk Utility option.
Now you will see those two volumes. Choose the Macintosh HD Data volume.
After that, go to Menu, click on Edit and choose Delete APFS volume option.
A warning message will be displayed. Click on delete. Don't click on "Delete Volume Group."
Once done, go back to the Disk Utility and deleted the Macintosh HD. You have to delete them both, as you can't reinstall the macOS over another macOS. After choosing the drive, give a name to it and choose the format, for example, APFS.
Now click on Erase and put your ID, if asked. Wait for a few minutes to complete the process.
How to clear your Mac running on Mojave?
Startup the system into Recovery.
Choose the Disk Utility and then choose Continue.
Now, you need to choose the main hard drive (Macintosh HD).
To wipe, click on Erase option.
It may be noted that this process will erase all the data permanently. So, make sure that you have backed up your data. When it is done, exit the program by selecting Quit Disk Utility from Menu.
Reinstallation of macOS
Just by erasing all the contents, you can't sell or reuse your Mac. So, after erasing all the volumes, you need to reinstall the macOS on the system. So, here are the steps to get it done.
First of all, make sure that you are connected to a Wi-Fi network. If not, then click on the Wi-Fi icon located on the top right-hand corner.
You should be in the macOS Utilities.
From the available options, selected Reinstall macOS to reinstall a fresh copy of macOS.
Now, click on Continue. Then, a pop-up will appear on your screen showing, "To set up the installation of macOS sierra, click Continue." So, choose "Continue."
Go through the software license agreement and then click on "Agree."
Choose the volume, i.e., Macintosh HD. Now, click on "Install."
Now the setup will continue to install a fresh OS on your Mac. Your computer may restart several times, but this is normal. Once done, you will be presented with a Welcome screen. You have factory successfully reset the Mac.
How to reset MacBook pro to factory settings without password?
Some Mac users might be looking for a way to How to reset MacBook pro to factory settings without password as they have lost the password. Well, this is not that much difficult. Because, before doing a factory reset, you can easily recover your password. Your Mac comes with built-in Recovery mode, using which you can reset the password to do a factory reset. For password reset using another account, follow the below steps.
Click on the "Apple logo" and click on "Log Out."
Now choose the account for which you have the password.
Now, out the password for that particular account.
Now, you need to go to the "System Preference" and then "Users & Groups."
You will see a lock icon located in the bottom left corner. Click on that and put your password.
Now, you need to choose the account you have lost the password to.
Choose the "Reset Password" option.
Now, put the "New Password" and complete the "Verify and Password" options.
Select "Change Password."
Now, you can use your old account ID and password to factory reset the Mac system. Besides, you erase the volumes using Disk Utility and reinstall a fresh macOS to complete the factory reset process.
While reinstalling a fresh macOS, you may get an error message like you can't install the OS on the disk, or the installer cannot detect the disk. To solve such issues, then erase the drive again. This will work.
On the other hand, if you want to install other versions of the OS, you can press Shift + Option or Alt + R instead or pressing Command + R. This method supports Sierra 10 and above. So, go on and reset your Mac system now.