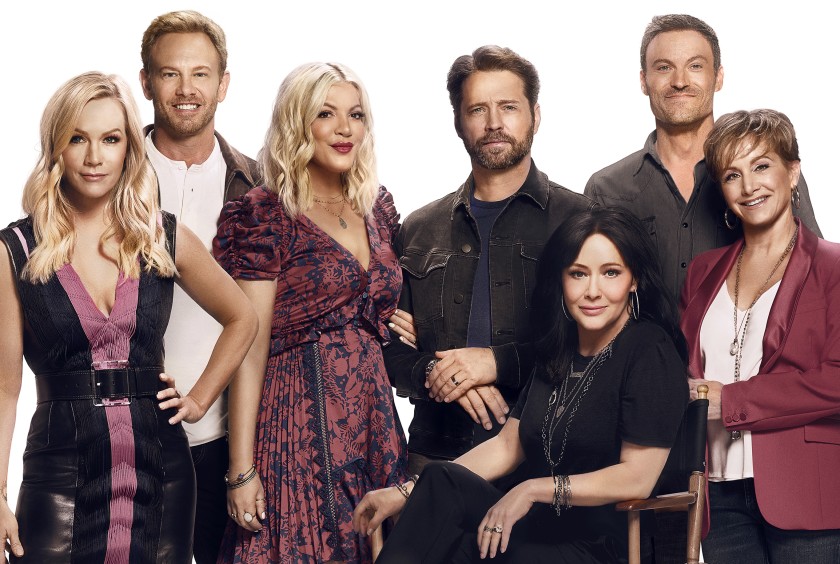 When it comes to one of the most popular TV Series, the series incorporates several surprises, drama, and rumors.
Recently, the series Beverly Hills 90210 went through a reunion on Fox TV Network, this Wednesday. One of the most peculiar segments of 90210 is that there is a slim marginal line between fiction and reality. According to the critics, the series doesn't even have the marginal line at all. Furthermore, this entices the fans of the series to uncover the real mysteries alongside the storyline.
However, the fans of the series from all around the world were in for a treat. Entertainment Tonight did visit the set of the series in Canada's Vancouver. All the online news out did want to figure out the scoop from 90210's cast members.
Tori and Jennie are friends in real life
The fans did want to know whether the friendship between Tori Spelling and Jennie Garth is real or not. The truth is the co-stars have 100 percent utterly true friendship also in reality. Moreover, both Jennie and Tori are equally responsible for creating the new series, which is also very much nostalgic. Additionally, the new series features, Shannen Doherty, Jason Priestley, Brian Austin Green, Ian Ziering, and Gabrielle Carteris.
Kevin Frazier from ET went to the Vancouver set of 90210. During his visit, Frazier had a conversation with Tori Spelling regarding her friendship with Jennie Garth. Spelling said that both of them did want to work together, and they are the best of friends for over 30 years.
Tori also gave a little insight into the reboot of 90210. At first, the cast members felt that there shouldn't be a reboot in the first place. Nevertheless, making a reboot in a completely different way will make the fans love the series again. The star cast desired to recreate the series which would make the fans feel whether the show is real or not.
The show is taking reality to a whole new level
The series is a twist between utterly delight and confusion, and this took the show to a new frontier. Garth said that this is the first time that the complete cast reprised their role via the ensemble. According to Garth, the show is creating the characters which have the same names as them. Moreover, the actors are also considering the perception of the people and how people feel about them. Here, the fans are the catalyst to shape and recreate the characters.
Garth also said that the fan is feeling that the series is in a little upside-down scenario, but that is not the case. Instead, people are watching the same characters the same show which different and familiar at the same time.
Garth also said that the entire cast likes to poke fun at themselves as they feel it is a cool thing to do. Take a look at what's real and what's fake in 90210. It is essential to know that the actual name of the actors is also the names of their characters.
Tori Spelling
True Facts-
On the other hand, Dean McDermott is the husband of Tori Spelling since 2006. However, the couple has five children, 2-year-old Beau, 6-year-old Fin, 7-year-old Hattie, 11-year-old Stella, and 12-year-old Liam. Tori's real-life and fictional made did bring a little trouble for Tori in like in her marriage life, financial crisis, among others.
Fake Reports- 
Tori's storyline comprises of several imaginary parts such as she is married to Ivan Sergei, who portrays Nate's role. Also, Tori doesn't have six children. Tori said in the camera that she doesn't have six children. So, her marriage to Nate and having six children is fake.
Jennie Garth
True Facts-
Jennie's life is quite similar to the roles that she takes. Dave Abrams is the third husband of Garth, and they married in the year 2015. Back in April 2018, Jennie and Dave did file a report due to irreconcilable differences, but the couple is still together. In February 2019, both Dave and Jenny came up with a petition which said that they are dismissing their divorce case. Garth's previous marriages were with Twilight actor, Facinelli and before that she was married to Daniel Clark, musician, and actor.
Fake Reports-
Jenny has a sore eye due to her relationship with Jason. However, in the year 2014, the actress said positive things about her co-star, which suggests that they are friends. After Jason came to one of Jennie's weddings, the reports of her tumultuous relationship with Jason came to an end.
In the series, Jennie has one daughter, but in reality, she has three daughters, namely 11-year-old Fiona, 14-year-old, Lola, a 20-year-old Luca.
Shannen Doherty
True Facts- 
Doherty loves animals a lot. But Shannen doesn't reveal much about her real life. The actress said that her personal experience of off-limits and so is her marriage to Kurt Iswarienko. Back in August 2015, the medical report suggested that Doherty has breast cancer. Doherty has health issues in her real-life, which is yet to surface in the series. The actress even did go through a mastectomy and several chemotherapy rounds.
False Reports- 
Doherty is not an animal advocate in real life and also PawsitivelyShannen.org; her website in the series is fake. In addition to this, Doherty is not like a free spirit as her character Shannen.
Gabrielle Carteris
True Facts-
Since April 2016, Carteris is the president of the union SAG-AFTRA which comprises 160,000 actors, journalist, DJs, and Dancer. SAG-AFTRA also contains several announcers, news writers, program hosts, broadcast journalist, singers, voiceover artists, puppeteers, news editor among others.
Carteris is married to Charles Isaacs, a stockbroker since 1992. The couple has two grown-up daughters, namely, 20-year-old Molly, and 25-year-old Kelsey.
Fake Reports-
In the series, Carteris is president of America's Actors Guild, a fiction union. But in reality, she is the president of SAG-AFTRA.
Brian Austin Green
True Facts-
Brian is not married to a multi-platinum recording artist; rather, his real wife is lovely. Brian is married to the actress of Transformer and Jennifer's Body, Megan Fox. The fun fact is Megan Fox is yet to see a single episode of 90210. Fox and Green have three sons, 3-year-old Journey, 5-year-old Bodhi, and 6-year-old Noah.
Fake Reports-
The complete personal life of Green in the series is untrue. Green isn't married to Shay, who possesses five distinctive platinum records. Moreover, in the series, Shay has nine GRAMMYs along with a private jet. Also, Green is a stay-at-home-dad which is entirely untrue.
Moreover, the actors like Jason Priestley, Ian Ziering, among others, also have a similar explanation when it comes to their real-life and reel life stories in Beverly Hills 90210.
Currently, Beverly Hills 90210 airs every week on Wednesday on Fox.